faq's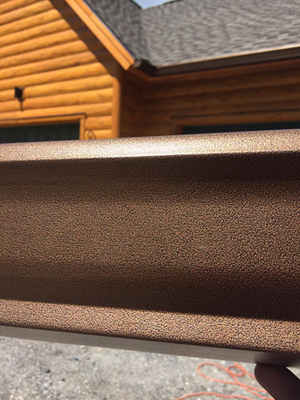 Q:
How do I know if I need Gutter's?
A:
Gutters can solve numerous problems for example;
your tired of rain from your roof getting you wet when you enter or exit your home.

your basement fills with water when it rains.

your landscaping around your house washes away after a storm.

you have rotted wood from water splashing back onto your house.
Q:
Why Seamless Gutters?
A:
On average, 32ft of gutter will have 3+ seam that are siliconed and screwed together at best, with this type of installation the seams always fail. With seamless gutters there are no seams to fail.
Q:
Do gutters only come in the color white?
A:
No. At Central N.H. Gutter Services, we offer 15 different colors all in stock and can special order many more colors.
Q:
Should I hire a professional installer for my gutters?
A:
We recommend it, although there are some crafty people out there, our gutters stand the test of time.
Q:
Are your gutters the same as the store bought products?
A:
Our gutters are .032" thick, compared to the homeowners which are generally .019" thick. All our products are far more superior and durable than the store bought products.
Q:
Do you warranty your work?
A:
YES! Our customers are very important to us. If there are any problems or concerns we will be there.
Q:
How long does it take to install gutters?
A:
Most residential installations are done the same day the project is started, this includes clean-up.
Q:
Do I need to be home during installation?
A:
No. As long as we know what you want done, we are able to complete the job and send an invoice by mail or email. You can even pay your bill online, we accept PayPal, Mastercard and Visa.
Q:
What if my gutters need to be cleaned?
A:
Central N.H. Gutter Services cleans and repairs gutters. We are happy to clean your gutters as needed. You can set up a cleaning schedule at a 10% discount which allows us to clean your gutters twice a year, once in the spring and again in the fall.
Q:
Do you offer protection to keep the leaves and pine needles out?
A:
Yes, we offer Leaf Relief, Gutter Warrior and Micro Screens. Different leaves and pine needle require different product protection. Our installers are trained and certified to install the proper protection for your environment.
Q: What about a rain barrel?
A:
We offer rain harvesting barrels or if you have one you want us to use, we are happy to install either. This is a great way to harvest rain water for the drier days when your plants and gardens need watering. It's a green way of thinking!